Introducing DeFi Smart Layer
Building the Financial Infrastructure for the Decentralized Internet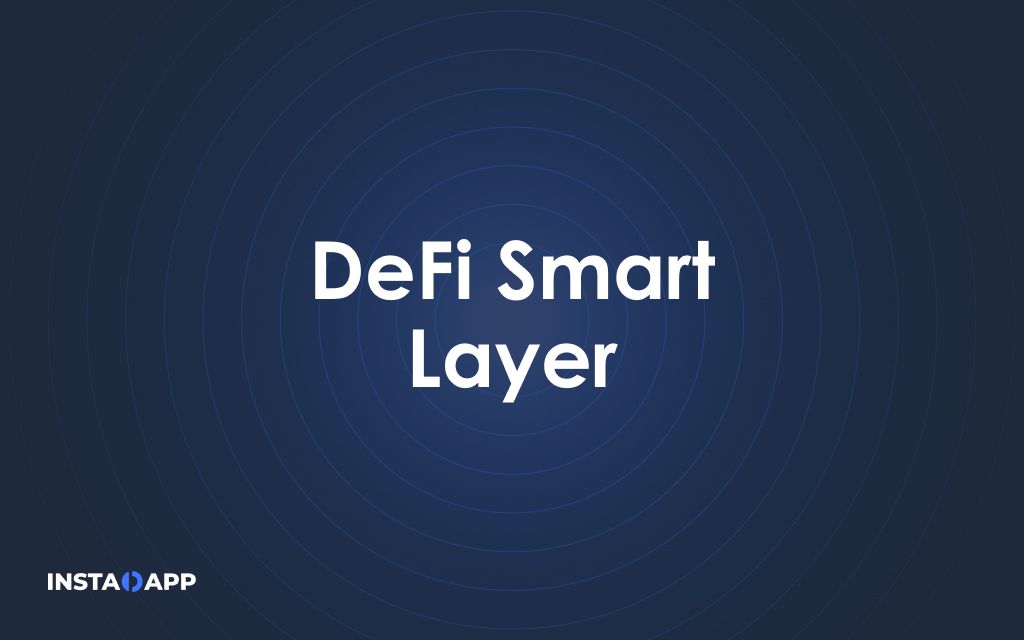 Instadapp DeFi Smart Accounts (DSA) is one of the most proven systems on DeFi, with more than 18K accounts created, $1B in TVL, $3B in flash loans and $1B in swaps performed via DSAs. Many of the most innovative DeFi features, including the first iteration of flash loans and instant loan swaps, were first developed on Instadapp.
With the explosion of DeFi protocols and the next wave of users and developers coming in, we believe the time is ready to upgrade DSA into an open smart layer that aggregates across protocols to make developing DeFi much easier.
By tokenizing and opening up governance, we aim to incentivize collaboration and drive participation amongst the 3 key groups of stakeholders - Users, Developers and DeFi Protocols.
Infrastructure Layer for the Decentralized Finance
DeFi Smart Layer (DSL) is a financial infrastructure layer for the decentralized internet, to make accessing and maximizing DeFi easy for all users and developers. DSL consists of a smart contract account standard, composable connectors to base DeFi protocols, and an authorization framework that allows extremely modular permissions.
Smart Accounts, which are the upgradable contract accounts, trustlessly owned by users. Assets are stored here and DSAs can execute composed transactions across connectors.
Connectors, which are standardized modules that interact with the various protocols, make important actions accessible to smart accounts. Developers can compose complex DeFi transactions across protocols using pure Javascript.
Authority, which users can use to set guardians, managers or automation bots to manage their DSA. Permissions can be modular down to connector levels. For example, users can allow specific addresses to rebalance their assets to minimize interest payment or maximize yields, but nothing else.
Users will be accessing the DSL via several channels, including on the Instadapp portal, 3rd party dapps and wallets/UIs that use smart accounts.
Role Of Instadapp Portal
Our long term goal is to have frontend developers use DSL as a middleware for all their DeFi needs, and have most users leverage DSL from those apps. We will transit the portal into a platform for all users and developers to easily access the ecosystem of dapps and use cases.
In the near term, since our portal will be the main access point for the DSL, we will continue driving exciting new DeFi use cases like loan optimization across protocols, leveraged ideal AMM liquidity and more. Any new features developed on the portal will also be accessible to the developer to implement on their UI. We will also link to other Dapps built on top of DSL to make it easy for portal users to discover.
What Does DSL Enable?
DSL aims to aggregate across DeFi protocols and abstracts away the complexity for users and developers. This creates a set of important benefits to the development of DeFi, including:
Instant javascript access to all of DeFi, including composing use cases across protocols with zero smart contract deployment.
Ease of developing crucial features like social recovery and customized permissions.
Aggregate liquidity across smart accounts and base protocols to leverage it for flash loans, growing L2 environment.
Build new revenue streams and networks from automating or helping users delegate their DeFi activities, and adding their fee structures.
All DSL transactions are secure by default, since no new smart contracts are deployed, which vastly simplifies and removes attack vectors.
By removing the key technical, security and upgradability barriers to building DeFi, we aim to make DSL the easiest place for mainstream developers to embark on this journey.
For example, we see a future where every organization can have its smart wallet catered to their own needs, with specific permissions for specific use cases - and doing so on DSL will be seamless.
Driving L2 Adoption
As much as we are delighted to see the amount of innovation and capital coming into space, we believe that L2 adoption is a critical step towards scaling DeFi, lowering cost and driving increasing adoption for new users.
That said, several issues are hampering the adoption of L2 by either existing DeFi users on L1 and new users coming into space, particularly around unfamiliarity of the new networks, lower levels of available functionalities, and much-reduced levels of liquidity and token availability.
We intend to help solve these problems by allowing Instadapp users to seamlessly migrate their assets and use L2 on the same UX but with much lower gas. Besides, we aim to help bridge liquidity - by aggregating across various lending & swap protocols and by porting over - allowing users to bring unused liquidity over to L2 easily.
Lastly, we think there is a huge opportunity to offer new DeFi users all the main benefits of DeFi via a single API and interface, but at a much-reduced transaction cost. We think we can extend DSL to L2s to offer developers and users that benefit.
Instadapp Tokens For Governance Of DSL
Token holders will have immediate access to whitelisting accessible protocols, implement fees, finance the ecosystem development from treasury funds, and potentially open up the gateways for L2 migrations. A portion of the fees, charged by the interfaces using the DSL accounts or new protocols being built on the platform, will accrue to the token.
In updating to v2 of the Defi Smart Accounts (DSA), we are also introducing account upgradability, which will also give the DAO a large number of options to add deep functionality for users, including them to automatically offer their unused assets for various types of usages, including flash loans, yield farming, porting of assets in both L1 & L2 and gain returns on them. This will significantly extend both the power of the DAO, as well as utility to DSL users.
The initial governance will be made up of the Instadapp team and investors. We expect the decentralization of governance power to happen immediately at launch, through a combination of liquidity mining, developer incentives and delegation to selected teams.
We expect the following distribution of tokens at launch:
45% of initial supply for team, investors and new team members.
55% for ecosystem growth, including liquidity mining, new ecosystem partners, developer mining and delegates.
Token supply will be locked until sufficiently decentralized, where DAO can approve when token supply changes.
We expect the DAO / token launch and corresponding distribution to start in March. Detailed information about the distribution and initial liquidity mining will be available then as well.
Building The Future Of DeFi Together
We believe that the future of DeFi lies in bringing on a new generation of users, developers and experiences. By aggregating assets and liquidity into a single layer, abstracting away the complexity, we can make DeFi far more accessible to everyone.
Over the last two iterations of Instadapp, we have laid a solid foundation for helping to advance this cause, and with this opening up into a smart layer, we aim to establish an ecosystem, community and governance model that can help us achieve our goal of taking DeFi to the next level.
For the latest updates follow us on Twitter, join our community on Discord, or visit us at instadapp.io