Instadapp Protocol & Governance
The Middleware Protocol for DeFi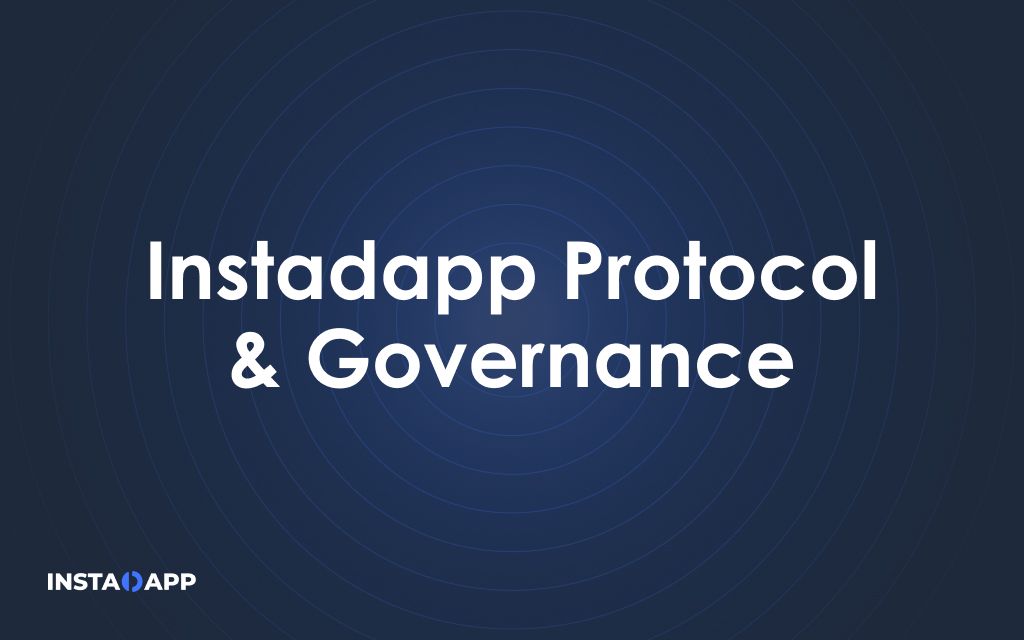 A few weeks ago, we announced the Instadapp Protocol (DSL), the middleware that aggregates DeFi into a single layer. Building from our current DSA system, we introduce three key new concepts - account extensions, decentralized governance, and L2 integrations to make Instadapp DeFi's most extensible and flexible platform.
Since the announcement, we have been hard at work on creating the technical, ecosystem, and governance foundation needed for this protocol. Today, we're incredibly proud to share that the core contracts for DSL are now fully audited and are live on Ethereum blockchain.
This post will explain how we intend to roll out INST governance and the key upgrades from DSA. The mainnet addresses and audit report are listed at the end of the post.
Introducing INST Governance
The Governance contract has been deployed at 0x0204Cd037B2ec03605CFdFe482D8e257C765fA1B and INST Token contract has been deployed at 0x6f40d4A6237C257fff2dB00FA0510DeEECd303eb with 100M initial supply held at Genesis address. We are using the governance standard as perfected by Compound Finance (Bravo).
Security and safety are a prime focus as we transition to decentralized governance, and as such, the protocol's ownership will be distributed in increments.
A portion of the governance tokens will be distributed amongst Instadapp's existing shareholders initially (which includes team and investors), forming the Micro DAO.
The majority of genesis INST will be allocated to building the developer ecosystem and community and will not participate in governance until distributed to the users and community.
The core team will manage the system at first until the on-chain voting and contract upgradability is operating as intended. After ensuring everything is on track, the core team transfers the protocol ownership to the governance and activates on-chain voting allowing the token holders to propose changes to the protocol, vote, and delegate.
This will also initiate the INST distribution to the protocol users. The initial distribution will be non-transferable, except for the genesis address. Once on-chain voting is activated, the community as a whole can come together to flip the transferability switch.
This is the first step towards decentralizing Instadapp. From this point forward, all the changes to Instadapp Protocol - from whitelisting new protocol to approving account extensions - will transparently go through standard proposals and on-chain voting.
You can expect this to happen in Q2 — more details around tokens and comprehensive documentation to follow this quarter. Stay tuned!
DeFi Smart Account to DeFi Smart Layer
There any many notable key upgrades and new composability that will come from upgrading the DSA to the new DSL protocol:
The DSL accounts are infinitely extensible with powerful new functionalities; accounts are more modular and can interact with specialized iterations allowing for L2 composability, increased flash loans capacity, and automated yield generation from idle assets.
The DSL contains a "default layer," which can be used by both users and developers; this is similar to the way users interact with Instadapp now. However, the DeFi Smart Layer will allow users and pre-assigned contracts (or other users) to execute different interactions across various accounts. The DSL becomes a hub to create unique extensions and "layers" that can perform actions that are now not currently possible to execute in DeFi. The DSL opens a brand new avenue for DeFi and smart contract use cases.
With the flashloan extension, users/developers can take a billion-dollar flashloan in technically any token from any whale's DSL account.
With the optimizer extension, users can opt-in to utilize their idle collateral to earn extra yields through governance treasury management.
With the authority extension, you can assign highly granular and modular authority management to different addresses.
With the market-making extension, users can create limit orders across multiple protocols to create unique non-protocol specific 'DeFi positions'.
With the automation extension, users can automate their DeFi positions by giving limited authority to execute certain functions.
With the layer 2 extension, users can easily migrate their positions from layer 1 to layer 2 and vice versa. Also, between different layer 2s.
This is just the beginning as these functionalities are infinitely extended with future proposals by community and token holders through governance proposals — we look forward to shaping the future of the Instadapp Protocol with you!
Due to the vastly more extensible nature of DSL — governance will now have a very substantial role to play. On top of deciding the protocol's economics, token holders will now also have the power to decide how to best extend DSL functionality for both users and developers. The community will also control the layers or "implementations" that exist, meaning governance will have a strong say on what future use cases will exist on the Instadapp protocol.
At launch, the core team will be handing over the management of the protocol to the DAO. We believe it is crucial that we allow the community to self-govern, and the team will focus on building essential extensions and growing the protocol ecosystem.
Smart Contract Addresses And Audit Report
The Basic, Authority, Maker, Uniswap, Compound, Aave-v1, Aave-v2 and 1inch connectors have already been deployed.
We have also completed our first Audit with Peckshield with no severity. The audit report is hosted here.
L2 adoption
One of our primary focuses for launching the DeFi Smart Layer is facilitating seamless migration from L1 to selected L2s and vice versa, including migration between different L2s.
Several issues are hampering the adoption of L2, where solutions can be complex even for the experienced DeFi user and more difficult for new users coming into space. There is a barrier of entry around utilizing multiple networks. L2 currently suffers from lower levels of available functionalities, reduced levels of liquidity, and token availability.
The Instadapp protocol intends to help solve these problems by allowing Instadapp users to seamlessly migrate their assets and use L2 on the same UX. Besides assisting users in migrating, we aim to help bridge liquidity by aggregating across various lending & swap protocols and porting over, allowing users to easily bring unused liquidity over to L2.
Our upcoming launch around L2 will include migrating your Ethereum Mainnet debt positions to Polygon-Aave protocol with just a single click.
It is still a bit challenging to migrate an existing debt position between different systems. That's where Instadapp Protocol and DeFi Smart Layer come into action. The DSL has robust functionality to create a framework for quick deposits into and quick exits out of layer 2s - not only for tokens but also for debt positions.
More details to follow soon!
Endless DeFi Possibilities
In the last years, we have pioneered the ability to compose DeFi actions into highly complex utilities seamlessly, facilitated essential framework and functionality for DeFi, which has allowed us to build a feature-rich dashboard powering billions in locked value.
With the launch of the Instadapp Protocol, our mission becomes exponentially further reaching. Decentralized Finance is reaching a more mature and complex state, and there is a need for a middleware system that optimizes functionalities across different DeFi protocols as well as on other systems (including L2s) — Instadapp Protocol will achieve this.
Stay tuned for our upcoming updates!
For the latest updates follow us on Twitter, join our community on Discord, or visit us at Instadapp.io