Launching DeFi Smart Account
The Start of Low-Code/No-Code Movement for DeFi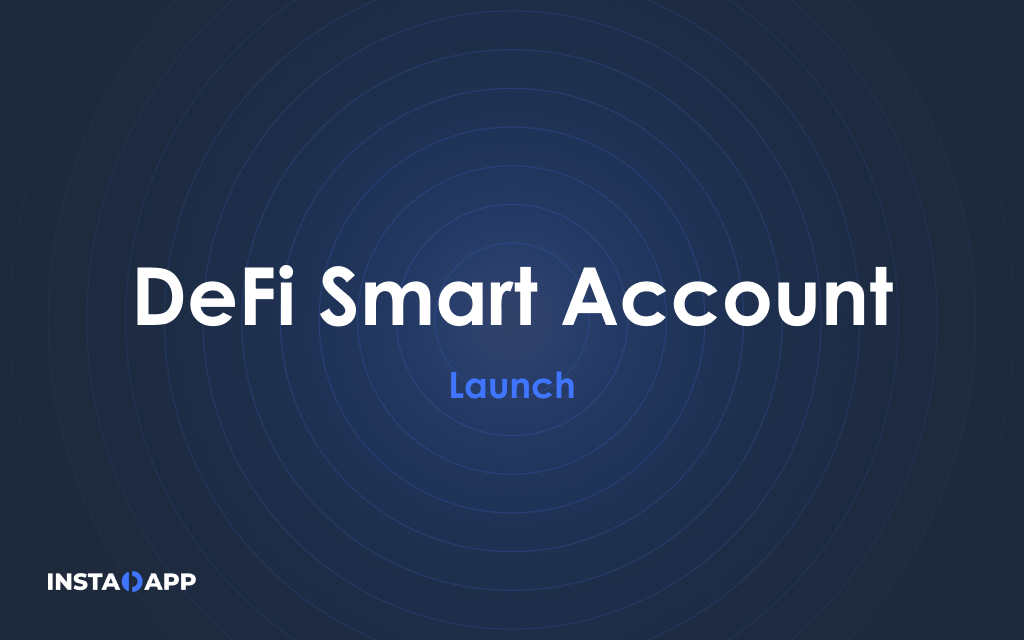 Instadapp's mission to make DeFi better and easier for everyone will be heightened with the launch of the DeFi Smart Account, but Instadapp can't be all things to all people.
Instead, we decided to empower all sizes of developers, from solo-coders to a group of hackers to globally-scaled teams to build dapps, use-cases, and other integrations on the DSA platform. That way, users can get curated experience as per their needs, and developers can create their own businesses supporting those users.
Today, we're thrilled to announce the launch and mainnet deployment of DeFi Smart Account (DSA) contracts, a platform to provide a single point of integration to access all the DeFi elements.
Developers 👩‍💻
DeFi Smart Accounts are contract accounts trustlessly owned by users, designed to allow developers to build extensible products and business models on top of DeFi with maximum security and composability.
DSA is powerful because it can easily be extended with connectors and developers will be able to string together the available actions in the connectors to create innovative new transactions in a single transaction.
The Protocol Bridge and Migration Bridge that created great usability in refinancing, took Instadapp about a month to build, whereas now with the help of DSA you can do it within 5 minutes.
Complex and important DeFi use cases like interoperability, solidity smart contracts (sometimes very complicated) are a basic necessity, resulting in a longer learning curve, complex and rigid code after deployment, and lots of potential vulnerabilities. Which is all cut down to just a few minutes of coding, with a few lines of javaScript (no solidity) - all of which is possible on the DSA platform.
And here we are, developing on DSA platform is as easy as this.
CREATE. ADD. SEND.
Check out our Quick Guides to CAST your first DeFi SPELLS.
Your imagination is the limit 💭
We continuously refine and seek out for deep concepts in the DeFi ecosystem that enable extremely robust and modular integrations. We focus on eliminating useless complexities; you can get started with DeFi Smart Accounts in just a couple of minutes.
Think of any complex transactions, and by just adding new SPELLS in your code, you can wonderfully CAST money lego transactions.
As building things in the decentralised finance space becomes more accessible, it's no longer limited to the fraction of engineers that can code solidity, resulting in an explosion of ideas from all kinds of developers.
Want to get started building in minutes? Check out our documentation. We look forward to your assistance in helping us improve the docs.
Security 🔐
The nature of smart contracts makes due diligence auditing a necessity. The security of the DSA platform is an important norm for us. We have taken several steps to mitigate the potential threats, in order to build a more robust base layer, which will further ensure the safety and reliability of the overall DeFi ecosystem.
The contracts are audited by professionals at Peckshield and renowned Samsunz and are running smoothly on the Ethereum mainnet, ready to onboard developers to build on top of. We have incorporated the changes as per the audit results and we also encourage the community to go through our smart contracts, as they are completely open-source.
Once the core contracts are deployed, all of the DSA transactions are secured by default, since no new smart contracts are deployed to build any kind of DeFi operations, which vastly simplifies and removes attack vectors.
New Instadapp 🎉
Instadapp envisions the progress of decentralized finance where user experience is effective. As more and more protocols tend to fill up the ecosystem with unique use cases, with the help of DSA, Instadapp will continue to integrate these protocols as per the needs of the users. Users will be able to add multiple authorities to manage an account in order to incorporate better manageability.
Check out the New Instadapp Portal powered by DSA platform. Start building multiple Smart Accounts for specific use-cases like lending, investment, stacking, voting or you name it.
The new version of Instadapp will start simple and be built together with our users and the broader DeFi community. We will continue to brainstorm exciting new use cases that will be possible with the launch of the new Instadapp architecture, including optimization across protocols, delegated voting, and a lot more. For current users of Instadapp, there will be a migration tool for migrating their assets to DeFi accounts.
Keep an eye out on weekly dapp updates, lots of exciting features in the pipeline to ship. Let us know if you have any suggestions or feature requests.
Support & Community
We're thrilled to see how the ecosystem evolves progressively as more and more applications are built on top of this mid-layer platform. We're all ears to all users and would like to invite everyone to join us on discord, twitter or email.